The Beyond Burger is a plant-based burger patty created by Beyond Meat. It is gluten-free, soy-free, and contains 20g of plant-based protein. I was able to get my Beyond Burger from the SDA Veggie Van, the mobile extension of the ABC Christian Store in Lacombe. I don't remember exactly how much it cost but it was somewhere in the $10-$12 dollar range for two patties.
Without hesitation, I can say that I was looking forward to trying this burger more than pretty much every vegan product ever. When I finally scored a package, it was frozen, and I continued to hoard it for several weeks in my freezer, waiting for the perfect moment to try it.
BEFORE COOKING…
The first thing that really hit was how much like meat this looks – it's a little disconcerting. Thankfully, it doesn't really smell like meat; I think it smells like a combination of slightly burnt sesame oil and soy sauce. It's not gross, but kind of strange.
Cooking Methods…
Options are to either cook the burgers in a skillet, or on a BBQ. Andrew suggested we try a patty each using both, so we did. Either way you cook them, you won't need any oil; these burgers have quite a bit of fat in them. The smell while they cooked was pleasant; very "burger-y", which is a word. 😉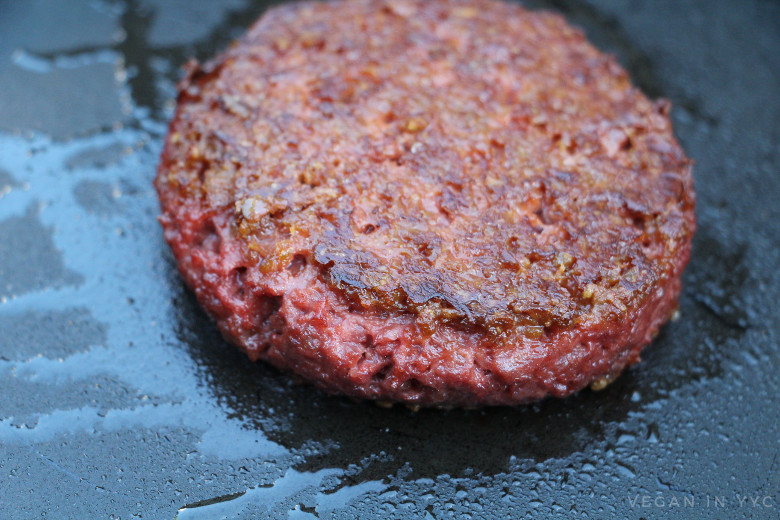 Point of interest: these burgers hold up great on the BBQ. I also preferred this cooking method as it allowed the fat to drain away from the burger.
THE TASTE…
I kept the fixin's simple so that I could taste the burger; lettuce, tomato, red onion, pickle, and some ketchup and mustard. Basic white bun. Side of the worlds best pasta salad (recipe coming soon). My excitement at this point was palpable and I eagerly took my first bite.
Uhm, yes! These burgers are unreal. The texture is perfect – slightly chewy, not rubbery, and has a grainy texture similar to what I remember of ground beef. Andrew, who still occasionally eats meat, said the texture was eerily similar to meat and that it tasted delicious. We both agreed it was the best vegan burger we'd tried so far. Andrew and I had at least one bite of each, and agreed there was no notable difference between the BBQ'd versus the skillet-cooked patty.
FINAL THOUGHTS…
I think this burger is great for anybody enjoys realistic meat analogues; if Gardein grosses you out, you might want to steer clear of this one.
Presentation: Spot on; the packaging helps add to the realistic meat look.
Cooking: Easy to cook; cooked according to package directions.
Taste: 5 out of a possible 5 burger flippers
Price: $$$$ – high. It's a tad beyond my regular price range and will have to be enjoyed VERY occasionally.
Omni Opinion: Delicious. A great veggie alternative for anybody, even those opposed to veggie burgers.
What do you think of the Beyond Meat Burger? Have you tried any of the other Beyond Meat products? Let me know in the comments below.