Hummus – a staple of the vegan diet and subject of many a vegan meme. The reason for this, of course, is that hummus is amazing. It's quick and easy to prepare, satisfying, high in protein, and can be pretty cheap to make yourself, as long as you're not using pine nuts as an ingredient. I'm often asked which is my favourite hummus recipe, and hands down this Roasted Red Pepper hummus is it.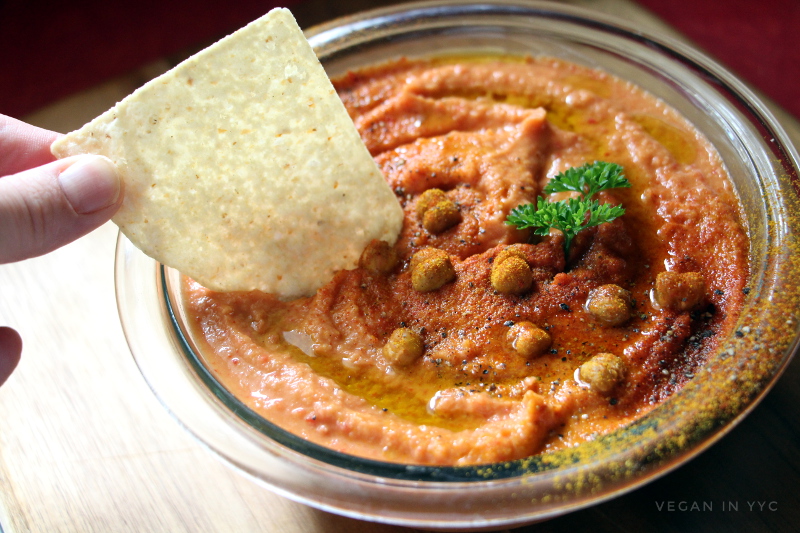 Hummus is made pretty easily; just put the ingredients in your food processor, and you're ready to go. Straight up though, I'm looking for an excuse to ditch my food processor, so if you know of any ways to make hummus that DON'T involve one, please let me know in the comments.
This recipe is even easier if your red pepper and garlic are roasted in advance. So if you're making something in the oven and think you might want hummus in the next week or so (and let's be honest, you do), here's your chance. Just prep your garlic and red pepper as instructed below, and pop it in alongside whatever else you're cooking. You probably won't be cooking it at 400F, but that's okay, just leave the red pepper and garlic in the oven until they become tender. Store the roasted garlic and pepper in an airtight container in the fridge for up to a week until ready to use.
Don't forget, hummus isn't just for scooping up with chips, crackers, or bread – it also makes a delicious sandwich spread. Try it on toast instead of (or with!!) avocado, or in a panini wrap with olives and greens.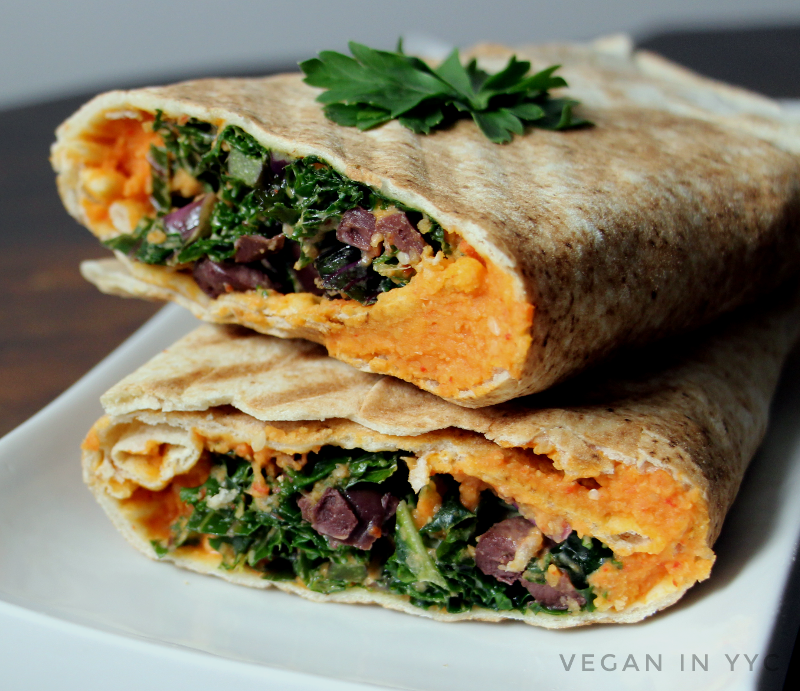 This recipe can become oil-free easily with the substitution of aquafaba for oil. If you're new to aquafaba, make sure to check out my post about it! (And save the rest of the aquafaba from this recipe to make something delicious.)
Love hummus? Hate it? Have your own favourite hummus? Let the full spectrum of your hummu-sexuality show in the comments below. See you soon, Vegans in YYC.
-K
Roasted Red Pepper Hummus
Ingredients
1

bulb

garlic

1

whole

red pepper

2

tbsp

freshly squeezed lemon juice

2

tsp

apple cider vinegar

2

tbsp

sesame seeds

1/2

tsp

salt

1/4

tsp

turmeric

1/2

tsp

paprika

2

tbsp

olive oil

(sub with aquafaba if doing oil-free)

1

large can (796ml)

chickpeas, drained

(about 3 1/2 cups)
Instructions
Oil-Free Roasted Garlic & Red Pepper
First, roast your red pepper and garlic. Slice the top off your garlic (so insides are exposed) and slice and remove the insides of the red pepper. Place in an oven safe dish, and add about an inch of water.


Roast garlic and red pepper at 400F for about 30 minutes or until the veggies are tender and the skins begin to brown. Let cool for 20 minutes, then peel garlic and remove the red pepper skins for the next step.

For the Hummus
In your food processor with the blade attachment, combine the lemon juice, apple cider vinegar, sesame seeds, roasted garlic, roasted red pepper, salt, paprika, turmeric, and process until well combined. *For oil-free hummus, sub the oil for a few tablespoons of aquafaba*

Add chickpeas, and pulse until combined.




With the machine running, drizzle in olive oil, and continue processing until smooth.


Pour into serving container. Garnish with a few drops of olive oil, and a dusting of turmeric and paprika, if you wish. (You'll want to skip the olive oil if you're making it oil-free. )

Recipe Notes
**If you don't feel like roasting veggies, you can sub 3/4 cup jarred roasted red pepper and 2 tbsp crushed roasted garlic for freshly roasted.
Save
Save
Save
Save