Vegans know that rabbits don't belong on pizza, so you were probably as horrified as I was to see pulled rabbit on the menu at this year's Stampede. Like all animals produced for food, these rabbits are kept in deplorable conditions, unable to express their natural tendencies. This undercover video produced by Compassion in World Farming shows some of the horrible conditions that rabbits suffer in factory farms.
Nobody should have to suffer for a slice of pizza, so I decided to create a "rabbit-friendly" version of the pizza on offer at the Grounds: smoky pulled jackfruit on a bed of delicious pizza toppings, topped with arugula and a drizzle of agave. This definitely isn't conventional "rabbit food" 😛
Not surprising, this pizza is incredibly easy to recreate for yourself; you don't even really need a recipe. Just grab your toppings, pile them onto your pizza shell of choice, and pop that bad-boy right into your oven. Here's what you're going to need:
The best part is how good it tastes! If you've never had pulled jackfruit on a pizza before, this might change your life. Or at least make for a delicious dinner. If you don't want to go to the trouble of prepping the jackfruit before making your pizza, I hear Upton Naturals Prepared Jackfruit is available at Community Natural Foods now. Otherwise, use leftover from a night of jackfruit sammies. I've also provided instructions to prepare a small, pizza-sized amount below.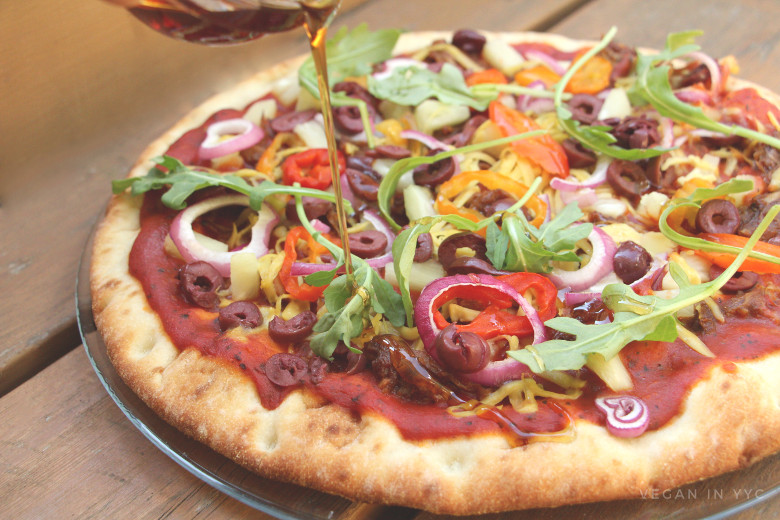 That's basically it friends! Rabbit-Friendly Pizza – Day 1 of 2017's 10 Days of Vegan Stampede. I hope you've enjoyed this first installment; I'll be back with the next one tomorrow.  🙂
See you soon!
-K
Rabbit-Friendly Pizza
Because vegans and rabbits are pals.

Ingredients
For the Pulled Jackfruit (You will probably have leftover, so make another pizza! )
1

can

Young Green Jackfruit in Water

(I buy mine from T&T)

1

tsp

onion powder

1

tsp

garlic powder

1/4

tsp

smoked paprika

pinch

chili powder

1

tbsp

Braggs Soy Aminos

1

tbsp

vegetable oil

2

tbsp

BBQ sauce of choice

(check ingredients to make sure it's vegan)
To Assemble The Pizza
handful

arugula

1

pizza shell

(I used the PC brand "Thick" crust)

4-5

tbsp

pizza sauce

1/2

cup

prepared pulled jackfruit

1/2

cup

shredded vegan cheese

(I used Gusta)

1/4

cup

red onion, sliced

1/4

cup

pineapple

1/4

cup

black olives

1/4

cup

banana peppers

3

tbsp

agave nectar
Instructions
To Prepare the Jackfruit
Drain and rinse the jackfruit. Remove any seeds, and chop off the firm bits on the end.


In a bowl, combine the jackfruit, spices, Braggs and oil, and toss together.


In a frying pan over medium heat, cook the jackfruit until it becomes soft and pulls apart easily. Add the BBQ sauce and mix well to combine. Set aside.

To Assemble Your PIzza
To the top of your pizza crust, add sauce, and all of the toppings except for the agave and arugula.


Bake according to package directions for your crust. Once out of the oven, top with fresh arugula and drizzle with agave. Slice, serve, and enjoy. 🙂