When I was asked to come check out the vegan options on Street Eatery's new vegan/vegetarian menu, I was pretty excited. Not only is a conventional restaurant adding vegan options to their menu, they're also the only restaurant in Calgary currently serving the Beyond Burger – pretty amazing considering that they're not widely available in Canada just yet. A friend and I went down together to check it out.
The Beyond Burger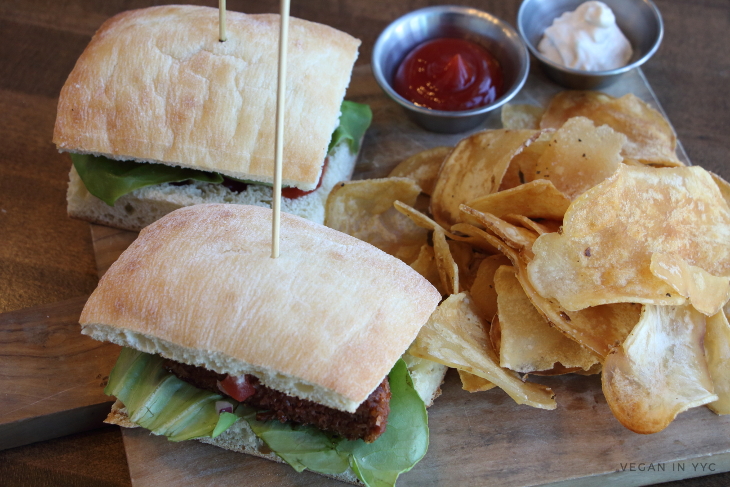 My Beyond Burger ($16) was perfectly cooked and came served with vegan mayo, ketchup, butter lettuce, pico de gallo, and an herb schiacciata. We had them cut it in half for us so we could split it. 🙂
The burger is intended to be served seared and rare in the middle, and the kitchen at Street Eatery did a wonderful job of preparing it. This is not my first encounter with a Beyond Burger (you can read my prior review of it here) and there's something so great about being able to order one in a restaurant.  The bun was soft and held together well, and the toppings complimented the patty nicely.
Options for sides are salad or their house-cut chips, so of course I went for the chips. These are some of the freshest chips I've ever had; very crispy, not too greasy, well salted, and come served with ketchup and an amazing garlic mayo.
VEGAN BUTTER CHICKEN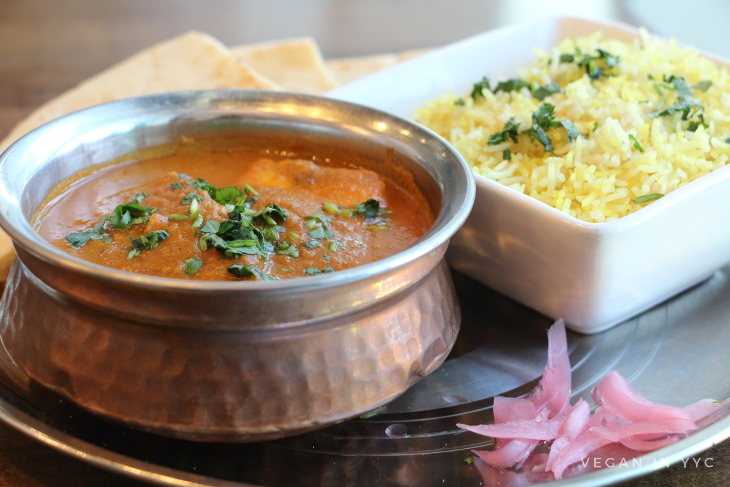 The Vegan Butter Chicken ($14) was quite tasty. Tofu is used for an alternative to the chicken, and it comes in nice, large slabs within the sauce. The menu listed the tofu as crispy so I was a little disappointed that it didn't retain it's crispiness within the sauce, but it was still very good. The sauce had a lovely tomato flavour, well seasoned, and plenty creamy. The saffron rice is a nice touch, and is good on its own and when mixed with the sauce.
We ordered the naan ($3) to accompany the Vegan Butter Chicken, but to be honest I didn't care for it. I found it dense and just kind of okay. My lunch mate, however, did not share my opinion and likened it to a brand of vegan naan that she often buys, so I suggest giving it a try.
Final Thoughts
These vegan options are fantastic. Portions are a good size, and the price point on the food is reasonable. I see myself visiting this restaurant often; one of the items I didn't try was the Channa Masala and after the tasty Vegan Butter Chicken, I'm excited to head back and give that one a go as well.
The staff was pleasant to deal with and attentive. The overall vibe of the restaurant is clean and modern – this is a great restaurant for a date night or lunch with friends, and is a wonderful option if you happen to be eating with an omnivore.
I'm so happy that The Street Eatery decided to add some vegan and vegetarian options to their menu; hopefully other restaurants will take a cue from them and start offering more items that cater to the growing vegan community in Calgary. A++; would definitely eat there again. 🙂
-K
Disclosure: This post sponsored by the Street Eatery; all words and opinions are my own.