Well, we did it folks – today is the last day of 10 Days of Vegan Stampede. To cap it off, we're going to finish with a recipe I know you've been dying to get your hands on – the Unicorn White Hot Chocolate.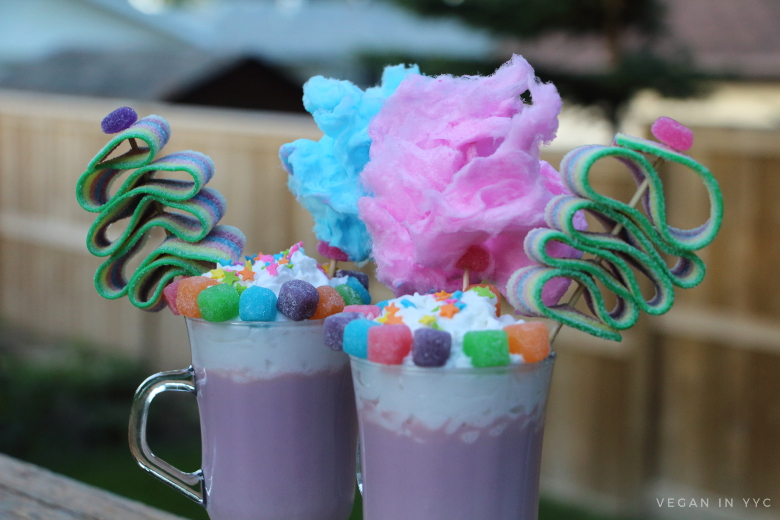 For this recipe, you're going to need some cocoa butter, and a boatload of candy. It took me a little while to find the cocoa butter, but I was able to pick some up at the Amaranth in Arbour Lake. (If you know of other places to buy solid cocoa butter, let me know in the comments.) The candy was very easy to find; I was able to find everything at Bulk Barn. I love them because they list ingredients for their candy right on the bin, so no guessing or internet searches required to tell whether or not it's vegan. 🙂
The colour of the hot chocolate is entirely for show and not necessary for flavour, but boy is it fun! I used a couple of drops of beet juice, and did not detect any flavour. If you don't have any, don't worry about it – the hot chocolate will still be delicious. 🙂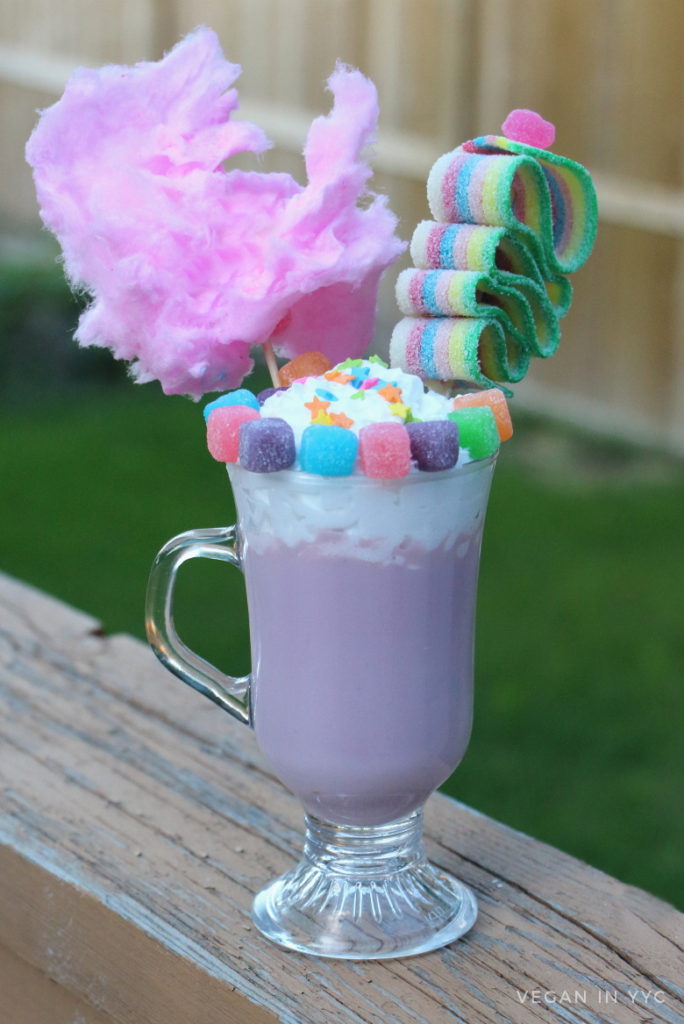 Finally, I must confess that this is incredibly tasty with a shot or two of vegan Bailey's, but this is entirely optional, and I definitely think you should skip this step if you're planning on serving this to children. 😉 But if you're making this for your (adult) self or some friends, a shot or two is a welcome addition to the hot chocolate.
And that's a wrap for 10 Days of Vegan Stampede! It's been a blast veganizing and recreating some of the most epic foods down at the Stampede Grounds; I hope you've enjoyed them too. 🙂 I'll be back soon with something incredible; until next time! 🙂
-K
Unicorn White Hot Chocolate
Ingredients
1

oz

chopped cocoa butter

1/2

tsp

vanilla extract

1 1/2

cups

strawberry soy milk

(I use Natura brand)

few drops

beet juice

(optional; for colour)

2

oz

Baileys Almande

(optional)

coconut whipped cream

assorment of candies to decorate

(see recipe notes for the ones I used)
Instructions
In a sauce pan on the lowest heat possible, melt the cocoa butter.


Add the vanilla, and the soymilk, and whisk together; initially the cocoa butter will sit on top - this is fine, just continue to whisk until they are combined.


Add the beet juice (optional). Split the hot chocolate between 2 mugs. Add 1oz Baileys Almande to each (optional). Top with coconut whipped cream, and garnish with candies of choice.

Recipe Notes
I used the following candy to decorate my hot chocolates: Sour Belts, Cotton Candy, Tropical Jelly Dots, Warheads Sour Chews and Star Quins.
The cotton candy and Sour Belts are arranged on bamboo sticks, using the Tropical Jelly Dots to secure them in place. Warheads Sour Chews line the rim of the mug, with coconut whipped cream to keep them steady.