It's hard to believe that this 10 Days of Vegan Stampede series is nearly over; today is day 9 already! Time sure flies when you're making delicious food. So today, I'd like to introduce you to Chicken-Fried Tofu & Jalapeno Cheese waffles, a vegan twist on the Texas Waffle down at the grounds.
I'm not sure which part of this recipe is better – the moist-on-the-inside-crispy-on-the-outside tofu, or those perfect waffles. Aquafaba is the egg-replacer used in this recipe, and I'm convinced it makes all the difference. But because of the aquafaba, I will recommend that you do not sub the soymilk called for in the recipe. Aquafaba and soymilk are a dream team; other milks have not worked so well for me in the past. So stick with soymilk to ensure you achieve waffle perfection.
If you can't find pressed tofu, a block of extra firm tofu pressed at home will work just fine. You don't even need a tofu press; I found a great method for pressing tofu without one here.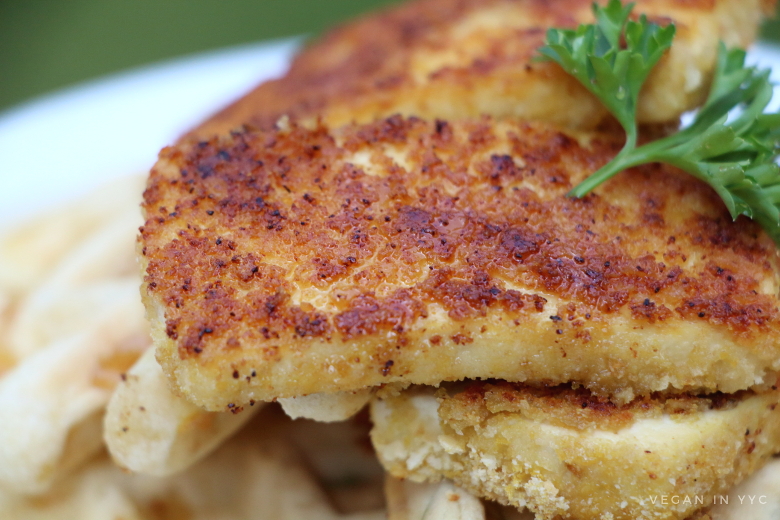 For the waffles, I've used everybody's new favourite grateable vegan cheese GUSTA to make the jalapeno cheese waffles, and I think it works the best. And no, I'm not sponsored by GUSTA! (But I'm open; GUSTA, hit me up! ;)) This stuff melts like a dream and tastes fantastic; you can find it in Calgary at Sunnyside Natural Market, and Blushlane.
Out of everything I've made during this series, I think this has to be my favourite. Chicken-Fried Tofu & Jalapeno Cheese Waffles – Day 9 of 10 Days of Vegan Stampede. I'll be back tomorrow with the final installment. Until then, friends! 🙂
-K
Ingredients
Chicken-Fried Tofu
1

350 or 400g block

pressed tofu

1

chicken-flavoured vegetable bouillon cube

~1/2

cup

aquafaba

1

sleeve

salted soda crackers

1/4

cup

nutritional yeast

1

tbsp

garlic powder
Jalapeno Cheese Waffles
1

cup

all-purpose flour

1

tsp

baking powder

1/4

tsp

baking soda

1/4

tsp

salt

3

tbsp

aquafaba

1

cup

plain, unsweetened soy milk

(do not sub)

1/3

cup

shredded vegan cheese

(GUSTA works great for this)

2

tbsp

chopped jalapeno peppers

2

tbsp

vegetable oil + more for waffle iron

maple syrup, for serving
Instructions
Dissolve the bouillon cube in water, and put into container big enough to hold the tofu. Add the tofu, cover, and let marinate in the refrigerator for 24 hours, or until it has soaked up 1/2-3/4 of the liquid.




In a ziploc bag, combine the crackers, nutritional yeast, and garlic powder. Seal the bag, but leave a tiny opening for air to escape. Crush ingredients with a rolling pin, until they resemble fine breadcrumbs.


Cut tofu into slices, about 1/4 inch thick. Pour aquafaba into a dish, and put about 1/2 the breadcrumbs on a plate. Pat the slices of tofu dry.


Take a slice of tofu, and dip it into the aquafaba, making sure to completely cover it. Then, toss it in the breadcrumbs, making sure it is thoroughly coated. Repeat with the remaining tofu, adding more aquafaba or breadcrumbs for dipping as needed.




Heat a skillet to medium heat; add a tablespoon of vegetable oil. Add a few slices of tofu; the pan should be hot enough that it sizzles. Cook until both sides are golden brown, turning once; 3-5 minutes per side. Use a pancake turner to flip; be careful so the coating doesn't come off. Repeat with remaining tofu.




Serve on top of Jalapeno Cheese Waffles (below).



Jalapeno Cheese Waffles
Heat up your waffle iron. In a bowl, whisk together the flour, baking soda, baking powder, and salt.

In a measuring cup, whisk together the soy milk and the aquafaba. Add to the dry ingredients along with the vegetable oil, and stir until just combined. Then, stir in the chopped jalapenos and shredded cheese.


Pour some of the batter into a heated and oiled waffle iron; how much depends on the size of your waffle iron. (Mine makes 4 at a time, and I use 3-4 tbsp each.) Cook until golden brown; repeat with remaining batter.


Served topped with Chicken-Fried Tofu and maple syrup.