I really went all out for this one! For our next installment of 10 Days of Vegan Stampede, we're gonna veganize the Maple Bacon Mini Donut.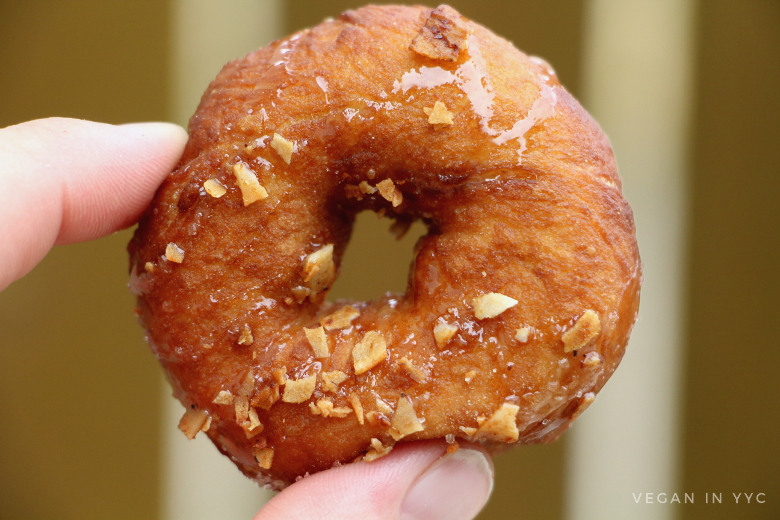 For this recipe, I'm using FRIED vegan donuts – REAL donuts, not cake batter baked a donut pan. Instead of the eggs and milk that you'd find in conventional donuts, I've used soy milk, and Holy Grail of vegan ingredients – aquafaba. If you're not familiar with aquafaba, check out the post I wrote last year singing it's praises – More Than A Substitute; How Aquafaba Will Upgrade Your Kitchen.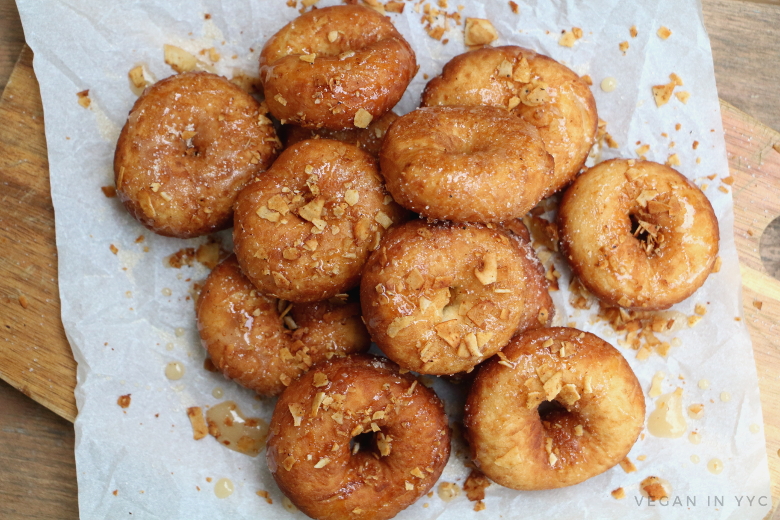 Back to the donuts; in addition to them being fried, they also happen to be covered in a wicked maple glaze and some delectable coconut bacon. One of the things I love about these donuts though is that you can top them with whatever you like; this is a recipe that will live on long after this Stampede series. In fact, you'll probably see a post full of icing recipes sometime soon. 😉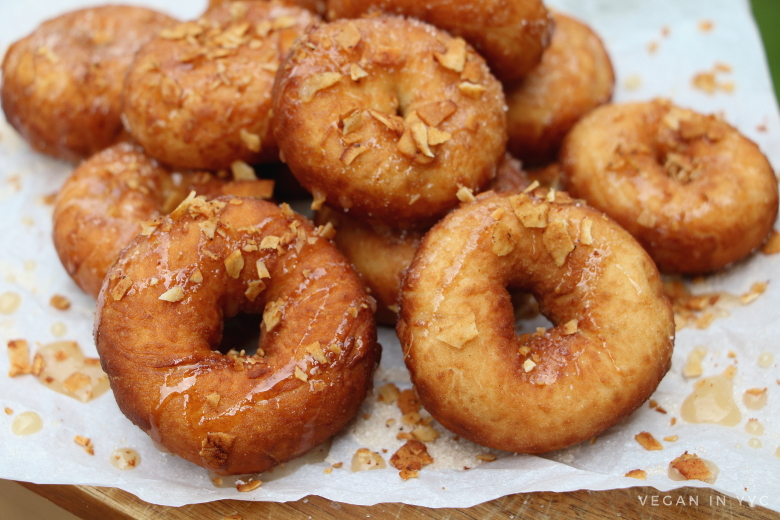 One thing I will mention; when using aquafaba in recipes that require milk, soymilk seems to yield the best results, so I've switched to using it exclusively. Therefore, I have no idea if these donuts will work if you sub a different non-dairy milk. I'm not saying it won't work, I just plain don't know, so I'm not even going to pretend that it's an option. If you're feeling brave and decide to try it, make sure to tell me how it went down in the comments.
That's it for today, friends; I hope you enjoy these Maple Bacon Mini Donuts. I'll be back tomorrow with the next installment of 10 Days of Vegan Stampede 2017!
-K
Maple Bacon Mini Donuts
Servings
24
mini donuts (approx)
Ingredients
Donuts
1/2

cup

soymilk

(DO NOT sub for another non-dairy milk)

1/4

cup

water

1/4

cup

vegetable oil

3

tbsp

aquafaba

(I use the liquid from Suraj brand chickpeas, available at Superstore)

1

tsp

salt

1/4

cup

sugar

up to 3

cups

flour, divided

2 1/4

tsp

quick-rise yeast

approx 2

cups

canola oil

(for frying; if you decide to use a sub, ensure it is an oil with a high smoke point, like peanut or refined coconut oil)

coconut bacon

for on top
Maple Glaze
1/4

cup

icing sugar

2

tbsp

maple syrup

1-2

tbsp

soymilk
Instructions
To Make the Maple Glaze
Add the icing sugar and maple syrup to a bowl, and stir well to combine. Add the water, a tablespoon at a time, until it has the smooth consistency of a glaze. Set aside.

To Make the Donuts
Combine milk, water, vegetable oil, and the aquafaba in a small saucepan, and heat until warm, taking care not to overheat or bring to a boil. (It needs to be warm so the yeast will activate. If it's too warm, it will kill the yeast and your donuts will not rise,)


Combine salt, sugar, yeast, and 1 cup of the flour into the bowl of a stand mixer. Combine with the warm liquid mixture, and mix with a paddle attachment for 4 minutes on medium speed.

Swap your paddle attachment for a dough hook, and knead the dough for about 5-7 minutes, gradually adding more flour, until the dough becomes smooth and elastic.

Place the dough in a lightly oiled bowl, flipping it to grease the top. Cover, and let rise for about 10 minutes.


Once risen, turn the dough out onto a lightly floured surface, and punch it down to remove air bubbles.


Grabbing a couple of tablespoons of dough at a time (about the size of a Timbit), roll the dough into a ball between your hands. Poke a hole in the middle with a chopstick, and stretch it a bit. (These holes will shrink a little when the dough rises and then when you fry it.) Form each ball into a little donut shape, and lay onto a lightly floured plate or cookie sheet. Cover, and let rise until the indentation remains when you press it with your finger, about 20 minutes.


In a large pot, heat about 2 inches of oil to 400F. Fry the donuts, a few at a time, until golden brown, turning once. This only takes a few seconds on each side, so be careful not to burn them!


Drain the donuts on absorbent paper towels. Dip the tops in maple glaze, or drizzle it on top, and top with coconut bacon. Eat immediately; these taste best fresh.