Why do we eat vegan bacon? Because we love pigs!
Pigs raised for food are subject to a number of cruel industry practices.  In addition to forced breeding and confined spaces, standards set by the National Farm Animal Care Council allow for the use of blunt trauma to euthanize piglets weighing less than 19.8lbs, and pigs on factory farms are routinely subject to body mutilations like tail-docking and tusk removal.
The great news is that you don't have to support this industry or it's methods; there are plenty of delicious vegan options and epic vegan junk food, like this beast right here:
This vegan version of the Double Mac & Cheese Dawg not only tastes great, but no pigs were harmed in the process. 🙂 Like many of the foods you'll see in this series, there are several steps to preparation, but the meal will come together in about 30 minutes. If you happen to have a batch of my Best Ever Vegan Cheese Sauce already in the fridge, you can save yourself the extra dishes.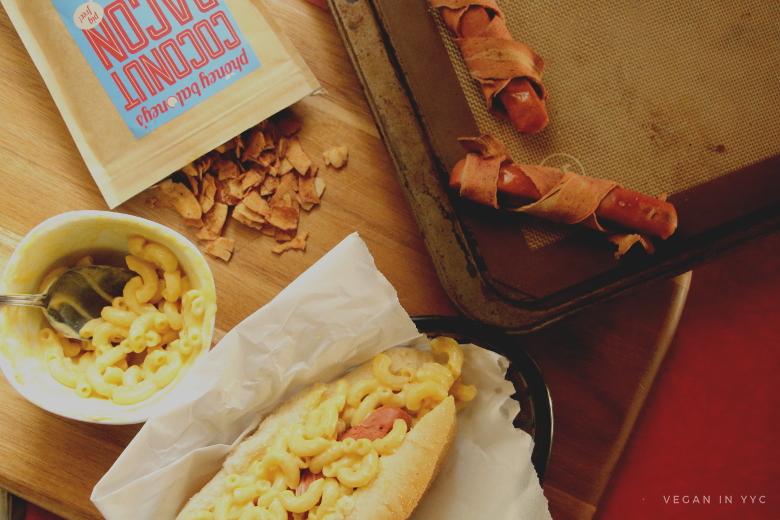 I had so much fun veganizing this recipe; so many delicious elements come together to create this epic vegan hot dog. I hope you enjoy it as much as I have. Make sure to leave a comment down below to let me know what you think. See you tomorrow for the next installment of 10 Days of Vegan Stampede 2017!
-K
Double Bacon Mac & Cheese Dawgs
Ingredients
4

veggie hot dogs

4

strips

veggie bacon

4

hot dog buns

1/2

cup

coconut bacon bits

1

cup

cooked macaroni noodles

2

cups

Best Ever Vegan Cheese Sauce

(see link in Notes)

4

tbsp

chopped green onion
Instructions
Bacon-wrapped Veggie Dawgs
Divide each piece of bacon in half lengthwise. Using two of these pieces, wrap each veggie dog, and use toothpicks to secure.


Bake in a pre-heated 400F oven for about 20 minutes, or until the dogs and bacon are nice and hot, and the bacon begins to crisp up a little. Take care not to overcook them as the dogs will dry out. Remove toothpicks when finished.

Mac & Cheese
Mix 3/4 cup of the Vegan Cheese Sauce with the cooked macaroni noodles. Set aside.

Assembling the Dawgs
Spread a tablespoon of Vegan Cheese Sauce in each hot dog bun, and add a bacon-wrapped dawg on top. Add a quarter cup of the Mac & Cheese to each.


Top each dog with a couple tablespoons of coconut bacon, another spoonful or two of cheese sauce, and a tablespoon of green onions. Eat, and enjoy.