This is getting too easy; the next installment for 10 Days of Vegan Stampede 2017 are these delicious Amsterdam Fries.
When I saw this item on the list of Stampede foods, I knew immediately how I would veganize it: steak-spiced mushrooms and some of my incredible Garlic Mustard Mayo dip. The mushrooms have a delightful meaty texture, making them the perfect substitute for the steak found on the original version.
You don't need to be a lover of animals to realize how detrimental it is to raise cows for food. Animal agriculture is responsible for 39% of global methane emissions; 55% of which comes from cattle raised for beef. Methane is considered one of the largest contributing factors to global warming – we are destroying our ecosystem with our food choices.
The good news, of course, is that we have the ability to make different choices, and those choices are just as, if not more so, delicious as their animal-product counterparts. I mean, just look at these fries; is your mouth watering yet?!
A person's preference in french fries, I'm coming to realize, is a deeply personal thing. Some people love wedges, others prefer the softness of a shoestring fry, or the crispiness of a 1/4″ thick one – and I've even witnessed arguments over which type is superior. Which is why my recipe calls for cooked fries, because you're (probably) an adult and can make your own decisions. I'm confident the toppings will taste good on any fries you decide to use. But in case you're curious, for these photos I used Cavendish Homestyle frozen fries.
But seriously, on a scale of 1-10, how excited are you for these fries? Let me know down in the comments. I'll see you back here tomorrow for the next installment of 10 Days of Vegan Stampede 2017. See you soon! 🙂
-K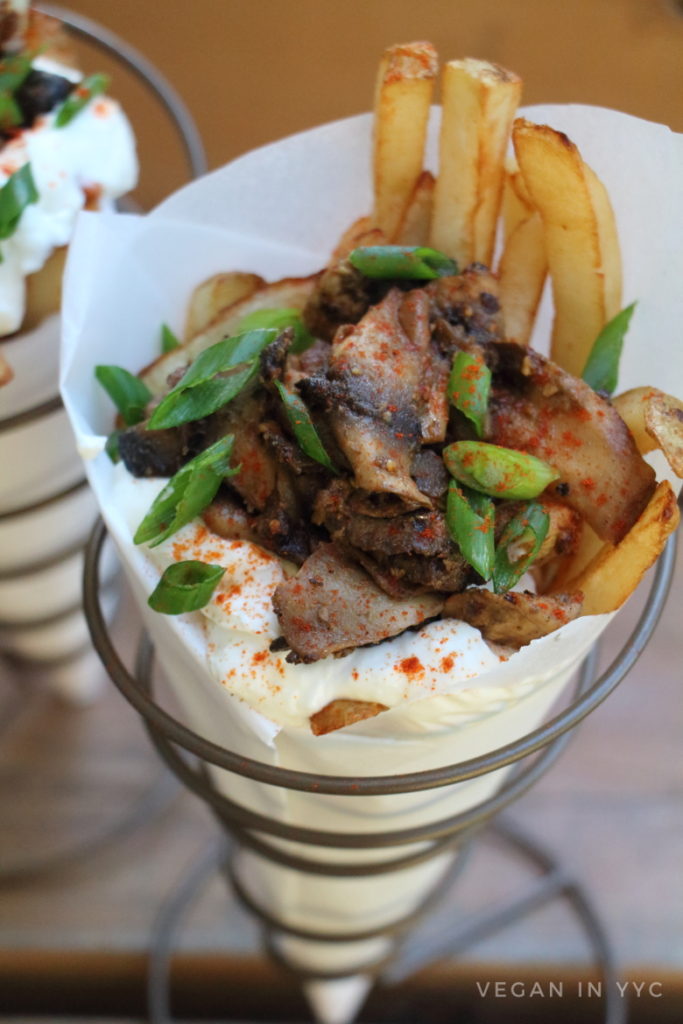 Amsterdam Fries
Ingredients
Steak-seasoned Mushrooms
2

cups

sliced white or cremini mushrooms

1

tbsp

Montreal steak seasoning

2

tbsp

vegetable oil

1

tsp

vegan worcestershire sauce

(I use Wizard brand)

few drops

liquid smoke
Amsterdam Fries
2

cups

cooked french fries

1/2

cup

Garlic Mustard Mayo DIp

(see Notes for recipe link)

1/4

cup

chopped green onions

smoked paprika

to sprinkle on top
Instructions
For the Mushrooms
Heat a small frying pan over medium heat. Add the vegetable oil, and allow it to warm up. Add the mushrooms, steak spice, liquid smoke, and worcestershire sauce, stirring well to ensure the mushrooms are evenly coated.


Continue to cook the mushrooms until they brown and become soft, 5-10 minutes. Set aside.

To Assemble the Fries
Divide cooked fries in half and place into separate bowls. Add half of the Garlic Mustard Mayo and Steak Seasoned Mushrooms to each. Top each with half the green onions and a sprinkle of smoked paprika.