When you hear the words "dill pickle" and "pizza" together in a recipe title, what thoughts go through your mind? If you're anything like me, you are probably equal parts confused and intrigued. In that moment, veganizing this pizza was something I NEEDED to try.
This pizza was very simple to make, and surprisingly delicious! Any skepticism I had about Dill Pickle Pizza quickly faded after I took the first bite. This is the kind of pizza you didn't realize was missing from your life.
The premise is simple enough – tomato sauce and a dill-pickle cashew cream, finished with some fresh pickle on top. Yeah, it's a little gimmicky. But isn't that half the fun of junk food?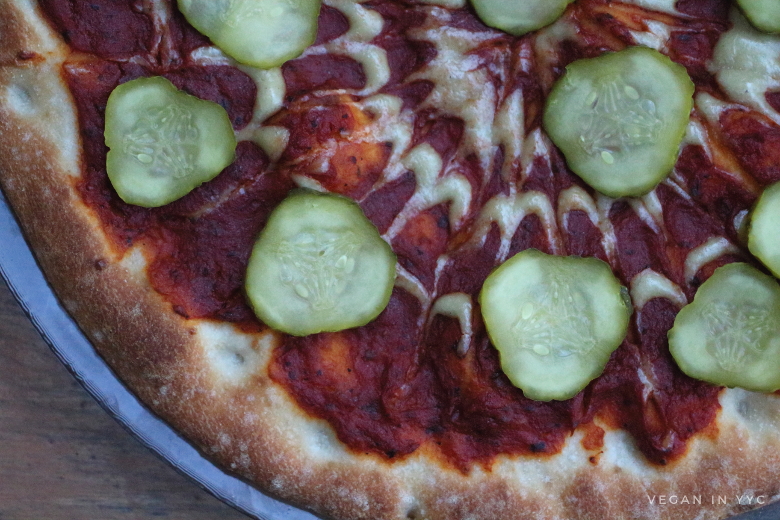 Impress your friends; make this fun and fancy Dill Pickle Pizza for your next vegan pizza party. Or eat it alone watching Friends reruns on Netflix – you're the master of your own destiny! 😉
Let me know how much you love it down in the comments; we'll see you back here tomorrow for Day 7 of 10 Days of Vegan Stampede!
-K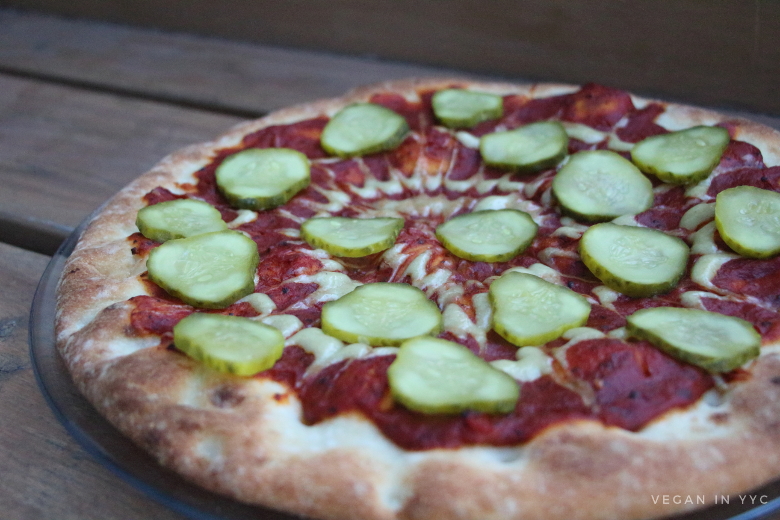 Dill Pickle Pizza
Ingredients
Dill Pickle Cashew Cream
1/4

cup

raw cashews

1/4

cup

pickle brine

1/2

tsp

garlic powder

1/4

tsp

dried dill weed

1/4

tsp

salt
For PIzza Assembly
1

vegan pizza shell

1/2

cup

your favourite pizza sauce

1

pickle, sliced into rounds
Instructions
For the Cashew Cream
Combine all ingredients into a small blender jar, and blend until smooth. It should be the consistency of a smooth cheese sauce; if it seems a little thick, add a tablespoon or two of water to thin it. Set aside.

To Assemble the Pizza
Cover the top of the pizza shell with your pizza sauce, using the back of a spoon to spread.


Add the cashew cream sauce on top. If you want it to look fancy like mine, apply it in a swirl, starting at the edge and working your way towards the centre. Then, drag a toothpick from the centre to the edge, repeating all the way around the pizza, like spokes on a wheel. Make sure to drag from the centre out, otherwise it won't look pretty.


Bake pizza according to directions for your crust. Once cooked, add dill pickle slices and serve.