The following post is NOT SPONSORED! All of the opinions contained within are my own. Eat plants; go vegan. 🙂
[SPUD.ca] has been on my radar for quite some time. I was sniffing produce a few years ago (if it smells good, it tastes good!) and was busted by the produce manager. We started talking organics and he told me about SPUD. At the time, the idea of ordering my groceries online seemed strange, plus, I just really enjoy grocery shopping and smelling selecting my own produce. But recently, [the Alice Sanctuary] signed up with SPUD.ca for fundraising, so between that and doing a review, I felt I finally had enough reasons to at least try it out.
My Ordering Experience
Their website is organized, and the search feature works well. They have a "vegan" filter, which I love because it meant I didn't have to spend a bunch of time reading labels. Since my primary motivation was the fundraiser, I chose a local box from their fundraising options, and few additional vegan products for myself – some that I hadn't tried before, and some Gardein products that were on sale and a bit cheaper than what I usually pay. The produced prices seemed a little high, but it's important to remember that it's organic, delivered to my door, AND I was purchasing a fundraising box, so the prices were not unexpected.
Putting through my order was simple; I just had to choose the items, sign up for an account, and put through the order. You can choose your delivery date for additional costs, but I like to save a few dollars where I can and was in no hurry, so I chose the free shipping. SPUD also gave me the option of modifying my order up until 2pm the day prior to delivery, which was about 5 days away.
Delivery Day
My box was scheduled to arrive between 3 and 9pm on Monday, and was delivered on-time. It came packaged in a Rubbermaid bin, divided into sections, and an extra envelope with a dry ice package to keep the frozen items cold. They left it where I had specified on my order. They notified me in advance that I would be shorted an item and adjusted my bill accordingly. Every aspect of my transaction with SPUD was professional.
Final Verdict?
Overall, I would say that my experience was positive. While it won't be taking the place of my weekly shopping trip, if I didn't have time to shop for myself, SPUD would be an easy alternative. Ordering was simple, I can filter products by my personal preferences, and the fundraising option allowed me to contribute to a favourite charity. The pricing is consistent with the quality of service I received, and I have no regrets from my decision to use SPUD.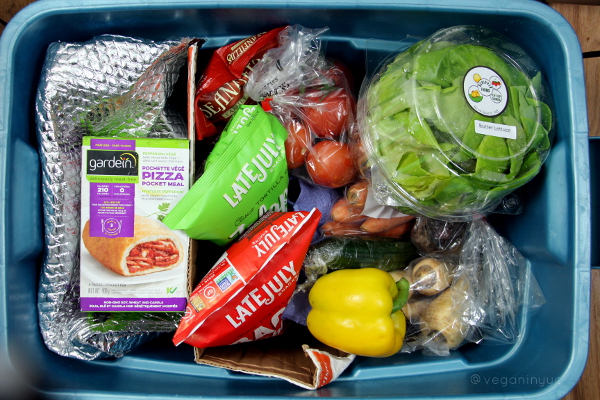 If you're thinking of ordering from [SPUD.ca], it's seriously a great time to do it. The holidays are busy and if you buy a fundraiser box, you can select The Alice Sanctuary as your benefactor. Check out the fundraising details below, and make sure to follow me on [Instagram] to see what I do with all that great produce. 🙂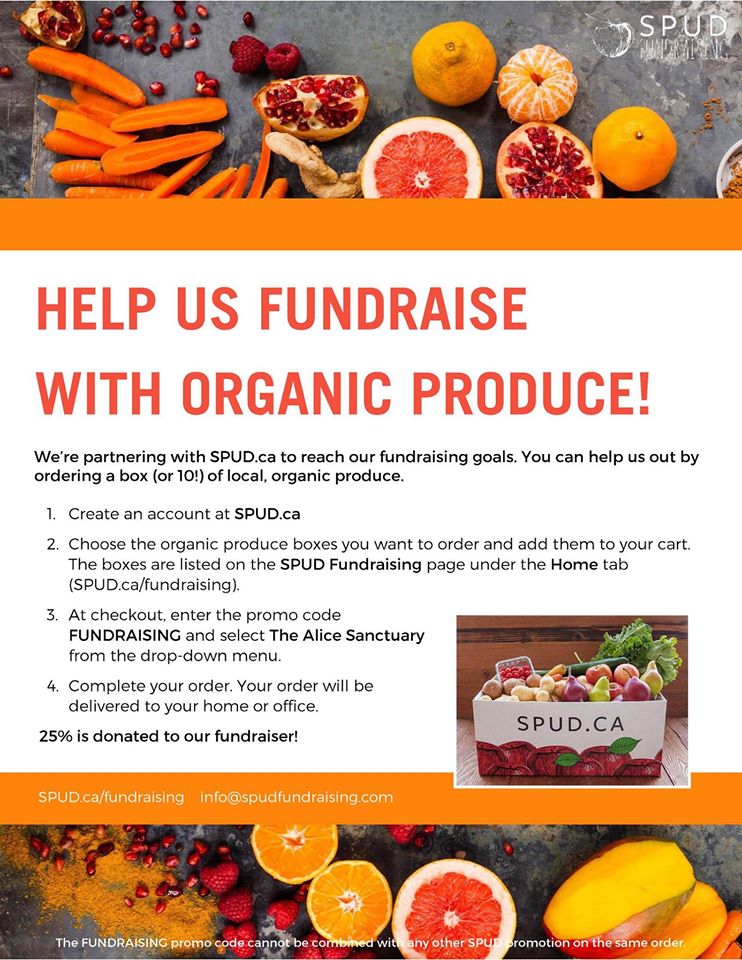 Save
Save
Save
Save