What's vegan this week in YYC? Check out this week's curation after the jump.

The Alice Sanctuary Fundraiser through Spud.ca
ONLINE
http://www.spud.ca/fundraising
Support the Alice Sanctuary and get tasty veggies delivered to your door? Sounds like a win-win to me. I just ordered my box yesterday and it's supposed to be delivered next Monday; stay tuned for a post on my Spud.ca ordering experience soon. Fundraising details below, or visit their facebook post [here].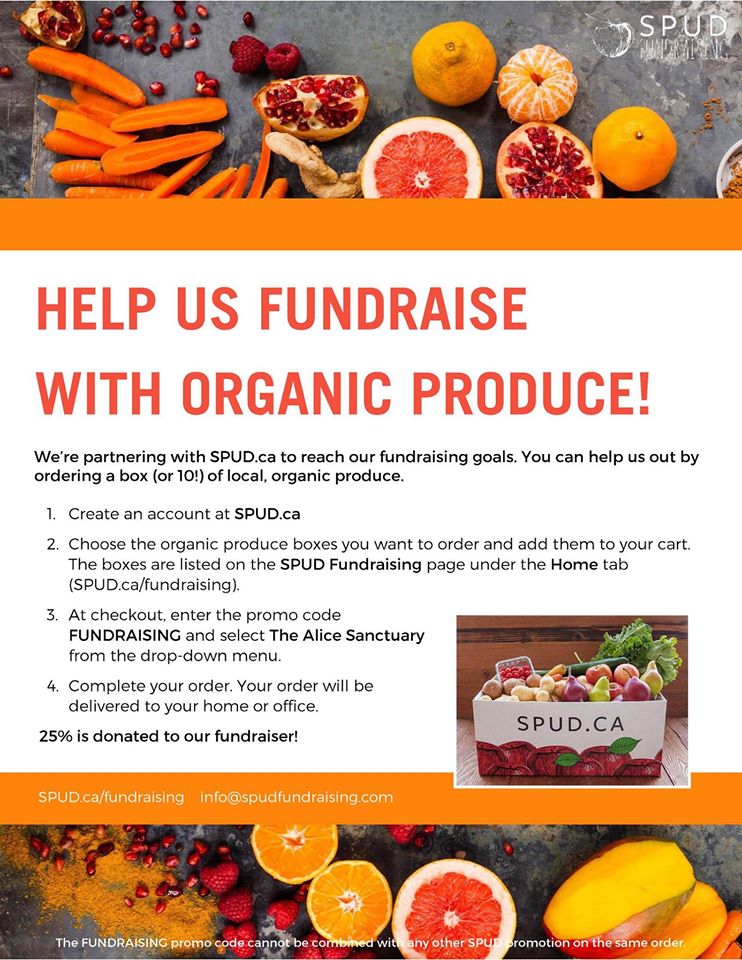 ---
Diabetes Treatment and Prevention Workshop, presented by ForkSmart.org
November 19, 2016
#112 1725 32nd Ave NE
9:30am-3:30pm

Join Food for Life certified instructor Kate McGoey-Smith (ForkSmart.org) for an 6 hour class walking you through the basics of managing diabetes with a whole food, plantbased diet. Registration and tickets are available [here].
---
Free Spirit Sanctuary Online Auction
ONLINE until November 20th, 2016
https://www.32auctions.com/FSS

Support the residents of Free Spirit Sanctuary (and get a little bit of your holiday shopping done) by bidding on some items at their online action. You can bid on the items by visiting their auction page [here]. More details on their Facebook post below.
---
Roni's Kitchen New Order Minimum
ONLINE
http://www.roniskitchen.com
[Roni's Kitchen] launched their meal service just a short while ago, and they've just recently dropped their order minimum to $50. Now's the perfect time to give their service a try – especially with the busy holiday season mounting. New menus are released each Thursday; you can visit [here] for more details.
---
That's it for this week; join me next Wednesday for the next installment of What's Vegan in YYC.
I do my best to scour the web looking for items of interest to vegans in YYC, but I don't always catch it all. So if you're hosting an event, launching a new vegan business, option, or product, or you know about something that should be on this list, please send it to info@veganinyyc.ca
Save