It's been over a year since I first developed a recipe for nut-free spinach and artichoke dip, and as I was moving the recipe over to WordPress, I had to admit that it was time for an upgrade. The original version was not only unnecessarily salty, but also included ingredients that are not quite so easily available in Canada anymore. (Sniff, Just Mayo, sniff.) But my motivations for this dip are still the same: a vegan potluck dip that's sharable with all my friends, including those who are allergic to nuts.
I've also updated both the [Ranch] and [Onion Cream] recipes; these recipes are not limited to just spinach and artichoke dip, my friends. No, they're standard dip and cream recipes that can be used in a variety of ways. And the artichoke dip is versatile as well. Firstly, you can totally skip baking it and serve it cold.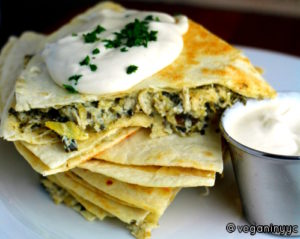 You can also use it as a pizza topping, queso-less-dilla filling, to make pasta salad…you get the idea. And if you don't have spinach, kale makes a great substitute.
It does take some time to prepare; around 2 hours including prep time. The good news is that you can absolutely make these ingredients or even the whole dip a day or two in advance. The cream lasts about a week in the fridge, and if you can resist eating it, the ranch will last 2.
This vegan Nut-Free Spinach and Artichoke Dip is sure to be a hit at your next gathering, holiday or otherwise. If you decide to give this updated recipe a try, I want to hear about it! Let me know in the comments below how your recipe went over with friends and family.
Save
Save
Save
Save
Save
Save
Vegan Nut-Free Artichoke Dip
Ingredients
Vegan Nut-Free Artichoke Dip
2

cups

packed artichokes

drained and chopped small

1

pkg

frozen chopped spinach

thawed and pressed to removed excess water

3

cloves

garlic

minced (finely grated works well too)

1

medium-sized

onion

chopped (around 1/2 - 3/4 of a cup)
Onion Cream (can be made in advance)
1

medium-sized onion

1/2 - 3/4 of a cup (halved)

1

bulb

garlic

slice the top off to reveal the cloves

1/2

tsp

salt

1/2

cup

hulled sunflower seeds

rinse well before using

1/3

cup

unsweetened dairy-free milk

hemp, soy, oat, rice
Vegan Ranch (can be made in advance)
100

ml

aquafaba

1

tbsp

dijon mustard

1

tsp

garlic powder

1

tsp

onion powder

1/2

tsp

dry dill weed

1/http://www.veganinyyc.ca/wp-content/plugins/wp-ultimate-recipe/img/minus.png2

tsp

salt

1/2

cup

vegetable oil

avocado, sunflower, canola - don't use olive or unrefined coconut oil as their flavours will be too strong
Instructions
For Onion Cream
Place prepared onion and garlic into a small, oven-proof dish. Add one inch of water, and bake at 375F for 45 minutes or until garlic bulb is browned and soft, and the onions are roasted.

Add roasted onions and garlic, salt, sunflower seeds, and non-dairy milk into a high-speed blender or food processor, and blend until creamy. Set aside.
To Make Ranch
In a high speed blender or food processor, add all ingredients except for the vegetable oil, and blend for 20-30 seconds until combined.

With your blender/food processor running at it's lowest speed, slowly stream in the vegetable oil. After all the oil has been added, increase to the highest speed for 10 additional seconds. DO NOT OVERBLEND; the ranch will collapse and be unusable in this recipe. Set aside.
Artichoke Dip
Preheat oven to 400F, and lightly grease an 8x8 inch baking dish.

In the dish, combine artichokes, garlic, spinach, Onion Cream and Ranch, and spread evenly in the pan. Bake for 20-30 minutes until browned on top.