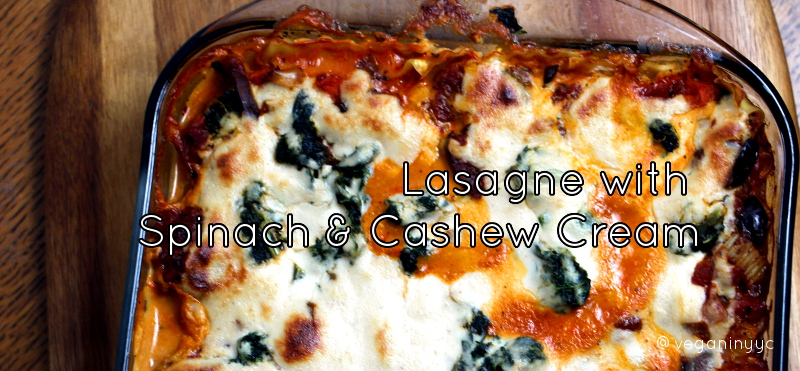 I'm confident in saying that lasagne is a favourite meal for many people; it's definitely on my top 10. Traditional recipes usually call for large amounts of cheese, but my vegan version uses a spinach cashew cream that boasts no cholesterol and an extra serving of greens. The only other things you need are your favourite marinara sauce and lasagna noodles.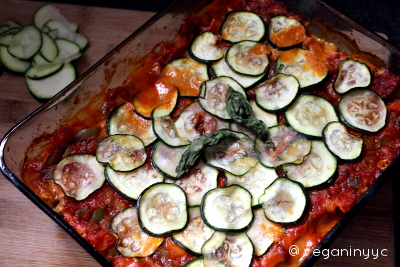 You can easily make this lasagne gluten-free by substituting thinly-sliced zucchini for the noodles, and even if you don't adhere to a gluten-free diet I suggest trying this at least once because it is absolutely HEAVENLY; see the recipe notes if you're new to using zucchini as a noodle substitute. You'll also find a nut-free version down there. 🙂
It's very important to make sure that the cashew cream isn't too thin when you use it to assemble the lasagne; it will thicken up a bit as you cook it with the spinach, but if it's too thin, it won't hold the layers together. To avoid this, add the liquid in small amounts as needed instead of pouring in the entire amount at once. Use a high speed blender if possible, or you might get small chunks of cashew. Strain these out if you want a super-smooth cream sauce.
What's your favourite tomato sauce to use in lasagne? Do you make another type of vegan lasagne that doesn't use tomatoes? Are you ready to try this lasagne? Let me know in the comments.
Save
Save
Save
Save
Save
Save
Vegan Lasagne with Spinach & Cashew Cream Sauce
This vegan lasagne uses a spinach cashew cream that boasts no cholesterol and an extra serving of greens. See recipe notes for gluten-free and nut-free modifications.
Ingredients
1

tbsp

apple cider vinegar

2

tbsp

sesame seeds

1

cup

cashews

soaked overnight

1/2-3/4

cups

vegetable stock

4

cups

spinach

2

tbsp

vegetable oil or water

2-3

cups

favourite tomato sauce

6-8

individual

lasagna noodles

cooked according to package directions
Instructions
Preheat oven to 350F. Lightly oil an 8x8 inch (or equivalent) oven-proof baking dish.

In the smallest jar of your high speed blender, add 1/4 of the stock, cashews, sesame seeds, and apple cider vinegar. Blend. With the blender on low, slowly add the rest of the liquid until a yogurt-like consistency is achieved. Set aside.

In a frying pan over medium heat, saute the spinach in water until the spinach is wilted and there is no liquid in the pan. Stir in the cashew cream, and keep stirring for a minute or two until combined, using a rubber scraper to prevent anything from sticking to the bottom of the pan. Set aside.

Layer noodles, sauce, and cream, and continue until your pan is full and/or you've used up your ingredients.

Bake for 35-45 minutes, and broil for an additional 5-10 minutes to brown on top.
Recipe Notes
GLUTEN FREE: Slice 1 zucchini into 2-3mm rounds. Salt both sides, and let rest for 1 hour in a single layer between paper towels. Rinse both sides, and use in place of lasagna noodles.
NUT FREE: sub hulled sunflower or hemp seeds for cashews.