Searching for something special for the vegan(s) in your life? This holiday gift round-up is a great starting point. It's by no-means exhaustive, but rather highlights the best vegan, local, and low-to-zero waste gift options I could find. You won't find any junk; instead I encourage you to give more responsibly with gifts of experiences and scrumptious goodies. Read on for my favourite YYC vegan gifts. 🙂
Luxurious Beauty Products
It's nice to buy products from companies you know share your vegan values, especially when it comes to body and beauty products. Lenity Soap is one such company, and makes some of the best body products in amazing holiday scents, available individually or in these adorable gift sets.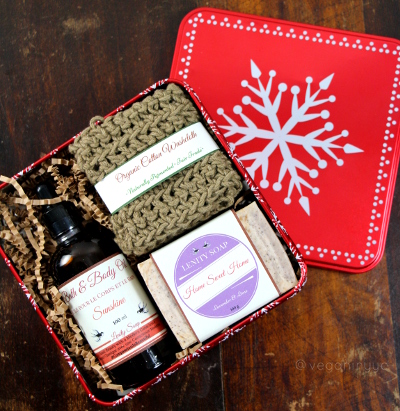 And for the crystal-obsessed in your life (Hello! 😀 ) I highly recommend Crystal Bar Soap. Based out of Calgary, all of their products come embedded with beautiful healing crystals. Visit their website for ordering info.
Festive and Food-Related
One of the easiest ways to make a vegan smile is to give them food, and there are plenty of great local vegan goodies to be had. Gluten-free favourite Baked from the Heart has plenty of seasonal goodies available for order until December 21st. My absolutely favourite are their cookie sandwiches.
You can give the gift of a night off cooking with gift certificates to Entrees Etc or Roni's Kitchen weekly meal service, or treat someone to a night on the town with a trip to their favourite vegan restaurant. Or if you have friends looking to further develop their kitchen skills, both Roni's Kitchen and Prana Kitchen 111 offer cooking classes.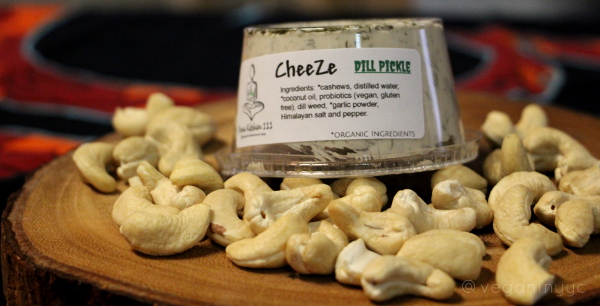 Peace of Mind
If you or your friends need to find some peace, sign up for sessions with Student of Breath Yoga. There's a 6 week program starting in January, or book a private session; info available on their Facebook page.  And if your furry or 4-legged friends are feeling the holiday stress, an energetic healing session with Mann's BFF might be just the thing to get them feeling right again.
Gifts that Keep Giving
The holiday season is about giving back in all kinds of ways, and one of the best ways I can think of is by supporting one (or more) of our 3 closest animal sanctuaries. Every animal in a sanctuary is a living, breathing advocate for animal rights, and their lives speak for thousands of animals that do not have a voice. The costs of running a sanctuary are high, and your donations keep animals warm, dry, and well-fed, allowing them to live out their lives in peace. You can sponsor animals on a monthly basis through The Alice Sanctuary, Robin's Refuge, and Free Spirit Sanctuary, as well as make one-time contributions to each organization. For more information on individual sanctuary needs, please visit their websites.
---
That's it for this special Holiday Gift Edition of "What's Vegan in YYC?" Stay tuned for this year's final installment of What's Vegan in YYC? on December 5th, 2016 (next Monday).
I do my best to scour the web looking for items of interest to vegans in YYC, but I don't always catch it all. So if you're hosting an event, launching a new vegan business, option, or product, or you know about something that should be on this list, please send it to info@veganinyyc.ca
Save