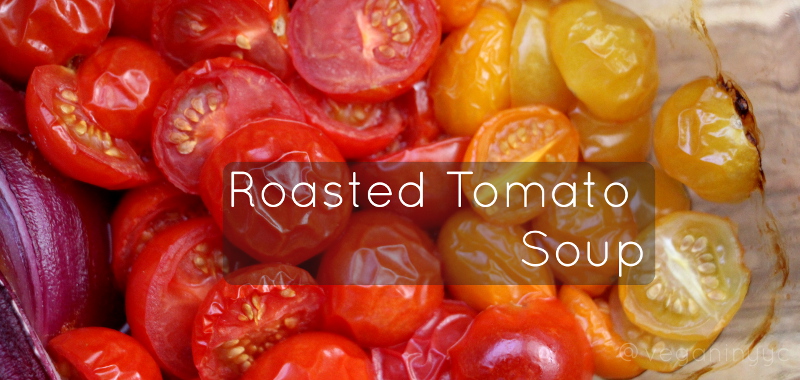 This is probably going to make me really unpopular, but I love it when it snows. I really do. Everything is quieter, the snow dampening the noise of the city, people hide indoors with sweaters and it feels like I have the whole outdoors to myself. Kind of like when it rains.
When I return after these brisk journeys, it's a great comfort to be able to  roast something in the oven. My meal cooks while I warm my toes and simultaneously, the house warms up as well. And one of my favourite things to make is a roasted tomato soup. Usually paired with a grilled "Gary" sannich.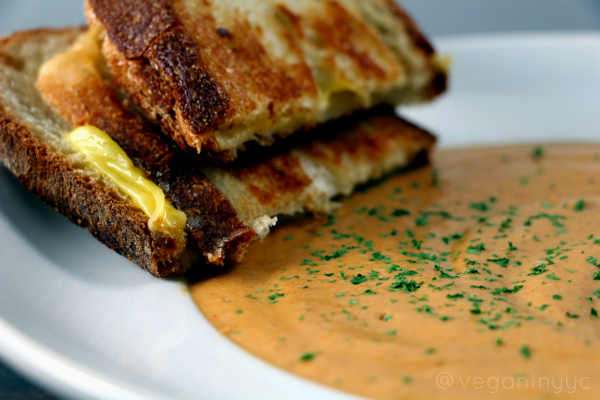 I have one more thing to confess – I'm a sucker for colourful food. So I almost always buy one of the big containers of pretty, colourful cherry tomatoes from Superstore when I see them. Sometimes the tomatoes are included in my meal plan, but often not, and I turn to this recipe when I need to use up tomatoes in a hurry.
I first saw this soup on an episode of "Raw. Vegan. Not Gross" on Youtube, and I've made it a zillion times since then, adding my own adjustments over time, like making it oil-free. I love this recipe because it's so easy to make; chop your ingredients, roast, blend, done. In less than an hour your have healthy, creamy, homemade tomato awesome. And then it's Netflix and soup. Definitely makes it easy to enjoy the snow days. 🙂
Save
Save
Roasted Tomato Soup
Servings
4
1-cup servings
Ingredients
6

medium-sized

tomatoes, quartered

or 1 large (680g) container of the multi-coloured cherry tomatoes 😉 )

1

medium

red onion, quartered

1

bulb of garlic, peeled

6-7

basil leaves

or 2 tbsp dried basil

1/2

tsp

salt

1

cup

water

1/2

cup

cashews

1/2

cup

unsweetened non-dairy milk

I use Silk cashew
Instructions
Add all ingredients, except cashews, to an oven-save baking dish.

Roast in a pre-heated 400F oven for 30-45 minutes, until the onions are soft and the tomatoes wilt. Let stand for 10 minutes to cool.

Add cashews, milk, and contents of roasting dish (including any liquid)into the large jar of a high speed blender. Blend until smooth. Makes 4, 1 cup servings.