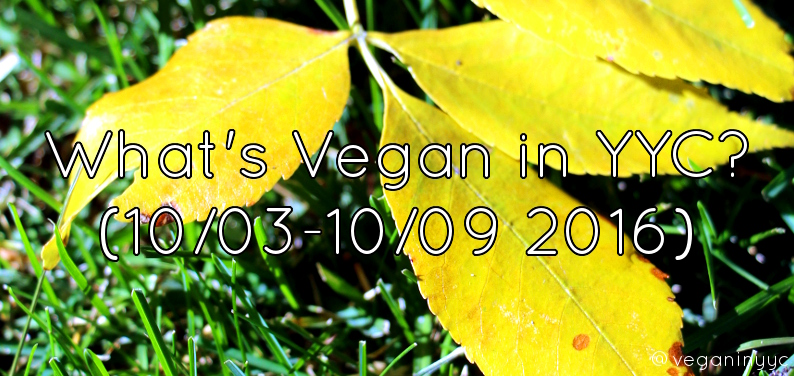 What's Vegan in YYC? Check out this week's curation of news and events after the jump!

——————–
Thanks for Living and the Love You Keep on Giving
(Potluck Fundraiser at the Alice Sanctuary, 11am-3pm on Saturday October 8th 2016)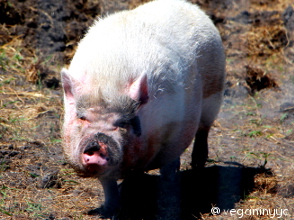 Give thanks to the Ambassadors of TAS with pie and a potluck, and your best donation for the Alice Sanctuary. Check out the event page here for more details:
https://www.facebook.com/events/187500311676675/
Calgary Vegan/Vegetarian Society Thanksgiving Potluck
(8818 Macleod Trail SW, 5pm-8pm on Sunday October 9th 2016)
Bring a dish and make some new friends at the CVS Thanksgiving Potluck. Put together by the Calgary Vegan/Vegetarian Society, these monthly potlucks are designated as vegan, making it a perfect opportunity to try some great vegan food. Check out the official event page here:
https://www.facebook.com/events/634549170055993/ or on Meetup.com (you must be a member of Meetup.com to see full details).
fall Feature Menu at Wild & raw
Freshly launched last week, the great folks at Wild & Raw have cooked up a deliciously pumpkin-centric Autumn Feature menu. With delicious treats like the Gourd Vibrations smoothie and this gorgeous Pumpkin Chia Power Bowl. You can get more information from Wild & Raw [HERE], and  you can check out my review [HERE].
Limited Edition Halloween Collection from Crystal Bar Soap
(Available online; crystalbarsoap.com)
YYC-local Crystal Bar Soap just launched their limited edition Halloween collection, featuring soaps and bath bombs with an extra spooooky vibe. Take your pick from great scents like "Web of Protection (black pepper & sage), "The Spirit Within" (patchouli & frankincense), and "Blood Moon" (blood orange & mandarin).
Limited quantities; be sure to order before October 14th to ensure delivery before Halloween. Available at [crystalbarsoap.com].
---
That's it for this week, but I'll have a fresh installment for you next Monday!  I do my best to scour the web looking for items of interest to vegans in YYC, but I don't always catch it all. So if you're hosting an event, launching a new vegan business, option, or product, or you know about something that should be on this list, send it to info@veganinyyc.ca or you can leave info down in the comments.