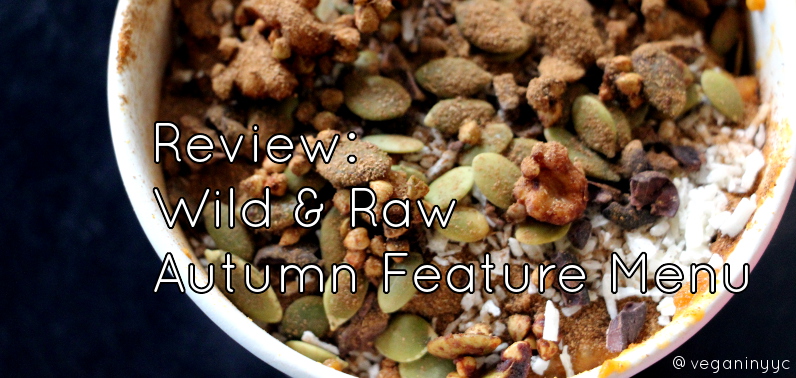 I was not expecting fall to begin so deliciously, but I'm so glad it has. Wild & Raw just released their ALL VEGAN Autumn Feature menu, so when I found myself in Kensington today, I stopped by to check out some of that pumpkin-spiced goodness.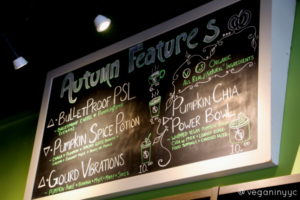 I had initially planned on just grabbing a Gourd Vibrations smoothie, but as I perused the features, I also found myself leaning towards the Pumpkin Chia Power Bowl. So I had both. 🙂
First up, that power bowl. The chia and pumpkin puree was extra thick; this bowl is for serious pumpkin lovers only! The spice was just right, and the top was sprinkled beautifully with a mixture of pumpkin seeds, coconut, candied nuts and more spice! This bowl has a great mix of crunchy and creamy, which is what smoothie bowls are all about, and even with the addition of the candied nuts wasn't too sweet. All in all, an enthusiastic 5/5! 🙂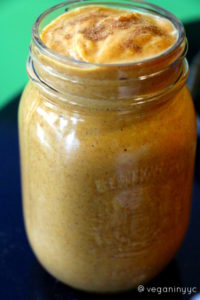 This smoothie had me feeling all kinds of Gourd Vibrations, haha! With a heavy emphasis on the pumpkin, this smoothie tastes remarkably like the power bowl, but definitely smoother and more appropriate for sipping through a straw. It's absolutely delicious, and tastes like drinking a pumpkin pie. Truthfully, it does feel like it's missing something; I think a little coconut whipped cream would be perfect on top. So reluctantly, I give this scrumptious smoothie a 4/5. But it's a really, really tasty 4. 🙂
So what do I think of Wild & Raw's Autumn Features?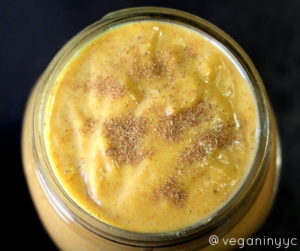 I really enjoyed them! Not overly sweet, with a pleasant amount of spice and loaded with pumpkin, these treats are sure to satisfy those fall cravings. And the next time I'm in Kensington, I'll definitely be stopping by to have a go at that vegan Bulletproof PSL.
Have you tried any of Wild & Raw's Autumn features yet? What's your favourite way to get a vegan pumpkin spice fix? Make sure to let me know in the comments. I'll see you next time, Vegans in YYC! 🙂
Save
Save