Yes friends, I've got another stuffing recipe for you, and this time, it's got no mushrooms in it at all. While most of my family are true mushroom fanatics, I am mature enough to accept that fact that some people just can't stand them, so if you're in that category, you'll be pleased with this recipe; not a mushroom in sight!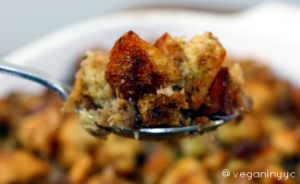 Use this recipe to stuff a pumpkin or other squash, or just bake it in a dish and smother it with [gravy]; this is an excellent basic stuffing recipe to get you through any holiday that calls for it. (Or an afternoon of Netflix; I won't judge.)
Even though my classic [Scarborough Fair Mushroom Stuffing] is a perennial favourite, this recipe is still a hit with my bread-obsessed family; we generally serve both if we have enough people. I hope yours enjoys it too; make sure to leave a comment down below and tell me what you served it with.
Save
Save
Save
Basic Stuffing Recipe
Total Time
1
hour
30
minutes
Ingredients
1.5

tbsp

dried summer savory

(or winter savory; I just usually have summer savory on hand).

1.5

tbsp

dried thyme

1/2

cup + 2 tbsp

vegetable oil, divided

canola, sunflower, etc.

1/2

tsp

salt (plust more to taste)

12

cups

1/4 inch cubed white bread (or buns)

(a single 840g package of ACE Bakery ciabatta buns will equal this amount)

3-4

cups

low-sodium vegetable broth

1

small onion

minced

1

rib of celery

minced
Instructions
Pre-heat oven to 400F. Place cubed bread into a large bowl, ensuring there will be enough room to stir/toss easily.

In a small blender jar, combine savory, thyme, salt and oil, and blend until well combined, about 1 minute. (You can also use a Magic Bullet or immersion blender for this step.)

Pour the oil over the cubed bread, a little bit at a time, and toss well to coat. spread the oiled bread cubes in a single layer on 2 large, lined baking sheets and bake for 20-30 minutes until crunchy and browned, making sure to rotate the pans and turn the cubes occasionally to prevent burning. Put the browned bread crumbs back into a bowl.

In a frying pan over medium heat, add 2 TBSP of vegetable oil, minced onion and celery and saute until the onions are translucent, 5-10 minutes. Add the cooked celery and onions to the breadcrumbs, and stir to combine.

Add vegetable broth 1 cup at a time to the breadcrumbs until they are soft, stirring well to make sure all the liquid is absorbed before adding more. Taste, and add additional salt if necessary. Because you will likely be topping with gravy, it's better if the stuffing is under-salted.

Place moist stuffing into a 3L greased oven-proof dish, cover, and bake in a preheated 375F oven for 30 minutes.