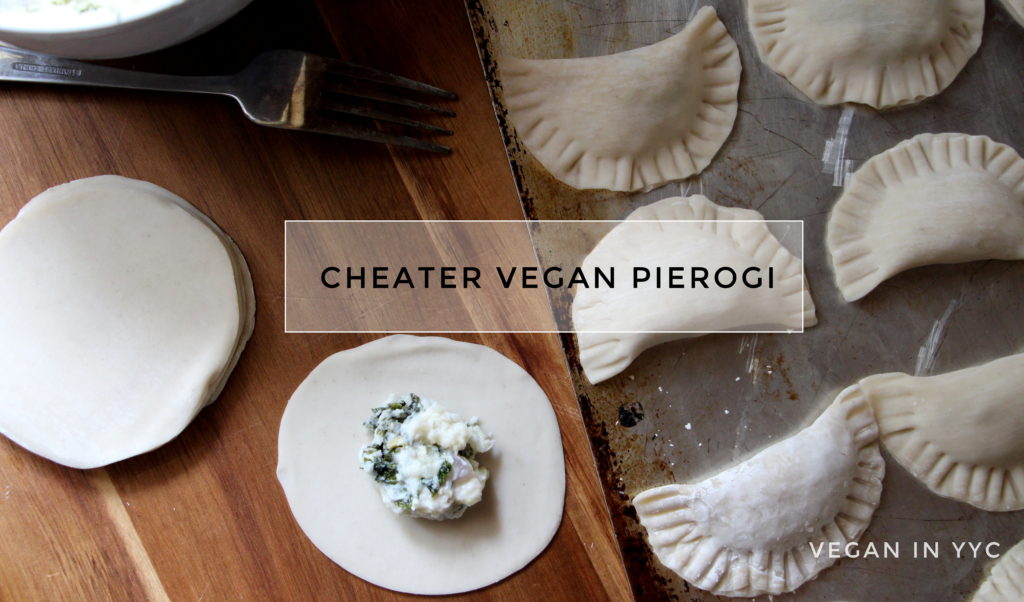 Today on the blog, we're talking pierogies! I'm not sure about elsewhere, but it can be damn hard to find a vegan pierogi in YYC; most contain whey or eggs. And then when you do find them, you can almost hear your wallet cry because they're expensive AF. Now, I believe in supporting local businesses, but I can't afford to spend $14 every time I need a pierogi fix. I've delved into the world of making my own, but straightforward as it is, it can be difficult to carve out an afternoon to dedicate to making them entirely from scratch.
Enter Cheater Vegan Pierogi! With this recipe, you'll only need an hour or two to make 3 dozen+ pierogies. My Ukrainian grandmother, God rest her soul, is either spinning angrily or cheering excitedly from her grave. But given that Grandma herself was short on time, I'm sure she would appreciate this little pierogi hack.  Are you ready for the secret?
It's dumpling wrappers, friends. Good ol' cheap-as-heck dumpling wrappers from T&T. I am sure that you can get pre-made pierogi wrappers somewhere, but I haven't found them (and they'd probably have egg anyway.) But these dumpling wrappers are vegan, and you get 40 of them for around $3. I tried these first with the TAOA brand, but my favourite are the ones made by Hung's Noodle House – they're more oval shaped making them easier to fill. They're also made locally right here in Calgary. If you're not from YYC, look for dumpling wrappers that are more oval than circular (and leave a comment below to say hi!)
Making pierogies with these wrappers is a breeze; fill them with a little under a teaspoon of your filling of choice, and press the edges together with a fork. I like to press them on both sides to make sure they're secure. Boil for about 3 minutes (don't overcook or they'll burst!) then pan fry until crispy (or not; they're excellent soft too). Serve with your favourite vegan sour cream and delicious things like green onions or vegan bacon.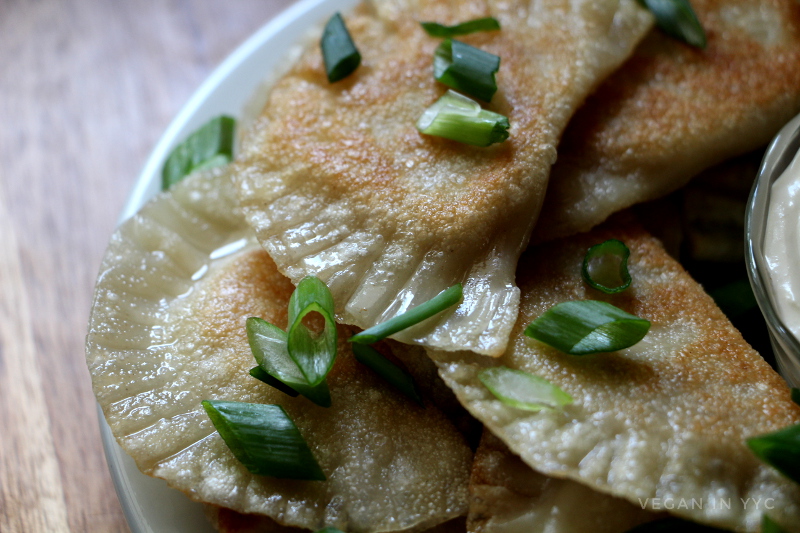 Can you freeze these? Yes you can! Freeze them overnight between two tea towels, single layer on a baking sheet so they don't stick together, and once frozen you can transfer them to another container so they're easier to store. They last in a freezer for maybe a month or two; I'm not entirely sure, I don't think pierogies ever last longer than a couple of weeks in mine. We eat them too quickly! 🙂
I've included a basic filling recipe below, but what you put inside the pierogies is entirely up to you. For savoury fillings, I use 2 cups of mashed potato, plus a cup of whatever else you're using – vegan cheeses, sauteed veggies, etc. Two of my favourites are red onion and mushrooms, or spinach & artichoke. Make sure to leave me a comment below and tell me your favourite pierogi fillings.
Love this? Hate this? Got a better way? Let me know in the comments below. Until next time, friends! 🙂
Cheater Vegan Pierogies
Ingredients
1

pkg

pre-made dumpling wraps

(Hung's Noodle House is my favourite brand)

Pierogi Filling

(this will fill an entire package of wraps, plus extra for sampling 😉

large pot filled with water

(for cooking)

2

tbsp

vegetable oil

(for tossing)
For the Pierogi Filling
2

cups

mashed potoatoes

1/2

cup

diced and sauteed red onion

3

tbsp

cashew cream

(see below; you can also use this as a sour cream sub)
For the Cashew Cream
1

cup

raw cashews, soaked and rinsed

1/2

tsp

salt

50

ml

fresh lemon juice

1/2

cup

unsweetened non-dairy milk

(I like soy best)
Instructions
Cashew Cream:
Combine all incredients in a small blender jar, and blend until smooth, stopping occasionally to scrap down the sides to ensure all ingredients are incorporated. Add 3 tbsp to Pierogi Filling. You can use the rest as a sour cream substitute; store any extra refrigerated in an air-tight container up to a week.

Pierogy Filling:
Combine all ingredients in a bowl, stirring well to ensure ingredients are evenly distributed.

Pierogies:
On a clean work surface, lay out one of the dumpling wrappers.


Place a little less than a teaspoon of Pierogi Filling directly into the centre of the wrapper.


Fold over the wrapper, and press sides firmly together with the edge of a fork. Flip over, and press again to ensure they are secure.


Continue until you have filled and pressed all of the wrappers. Lay finished pierogies in a single layer on a baking sheet (or other flat surface) while you work. If you've made traditional pierogies, you may be used to laying a damp cloth over top, but DO NOT DO THIS - the dumpling wrappers turn slimy and the pierogies become more difficult to handle.

Cooking Instructions:
Fill a large pot with water, and bring to a boil. Add pierogies to the water, and continue to boil for 2-3 minutes, making sure not to over cook them.


Remove from water using a slotted spoon, and toss the cooked pierogies with a little vegetable oil to prevent them from sticking together. You can eat them as is, or toss into a frying pan to make them crispy and brown. Serve with cashew cream or vegan sour cream, and your favourite pierogy toppings.

Freezing Instructions:
On a baking sheet, lay out pierogies in a single layer between two tea towels. Freeze overnight, and then transfer to another container for easier storage. Keeps up to 8 weeks.

Save
Save