Welcome back! Today I'm going to share another of my family's favourite recipes, Chickpea Makhani. A family favourite prior to going vegan, it was one of the first recipes I was able to successfully veganize. I've been meaning to share this recipe for quite some time, but when a friend recently requested the recipe I knew it was time to start measuring spices and writing out the steps. I so rarely measure spices or really any ingredients when preparing a dish I'm familiar with – I'm sure many of you can relate.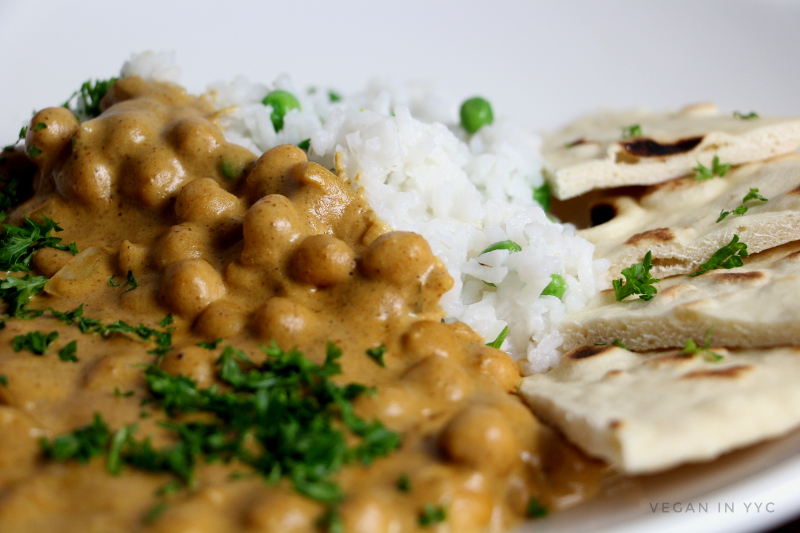 Now, I like my Chickpea Makhani to have a bit of a kick; if you are very sensitive to heat, consider halving the cayenne and reducing the amount of hot curry powder. Conversely, if you'd like this dish to be even spicier, add extra. And while I'd usually serve it with rice, you can use with whatever grains you happen to have on hand, making this an easy dish to toss together on busy weeknights.
This decadent and creamy Chickpea Makhani also happens to make an excellent pizza base; top with vegan mozzarella and a layer of fresh arugula after baking for an exceptional Chickpea Makhani Pizza. This is also a great way to use up any leftovers.
This Chickpea Makhani recipe always seems to find a way into my meal rotation; I don't think I ever go more than a few weeks without making it. I hope it quickly becomes a favourite for you as well. Let me know what you think in the comments below; and tag me in the instagram photos, @veganinyyc ! See you soon. 🙂
-K
Chickpea Makhani
Spiced chickpeas in a creamy makhani-style gravy. Serve with rice or other grains, or use as a pizza topping.

Servings
4
generous servings
Ingredients
3/4

inch

piece of peeled ginger, grated

3

garlic cloves, grated

1

tbsp

garam masala

1

tbsp

hot curry powder

2

tsp

cumin

1

tsp

cardamon

1

tsp

coriander

1/2

tsp

turmeric

1/2

tsp

cayenne pepper

1

tsp

salt

2

tbsp

vegetable oil

1

medium

red onion, diced

1

796 mL can

chickpeas, drained

I love SURAJ brand from Superstore

1

156 mL can

tomato paste

2

cups

"chicken" style vegetable broth
For Cashew Cream
1

cup

raw cashews, soaked overnight

1

cup

cold water

1

tsp

salt

1

tsp

apple cider vinegar
Instructions
Grate garlic and ginger into a deep frying pan. Add spices and vegetable oil, and cook over medium heat for a few minutes, to let the spices release their flavours.


Add onion and chickpeas, and combine with spices. Continue to cook until the onions are translucent, about 5-10 minutes. Prepare cashew cream (see below).


Add tomato paste and vegetable broth, and cook for another 5-10 minutes. Add cashew cream, and stir until combined. Cook for a few minutes more until thick, then serve.



For the Cashew Cream
Combine ingredients in a small blender jar, and blend until smooth.

Recipe Notes
****Reserve the aquafaba from your canned chickpeas to use in other recipes.
Save
Save
Save