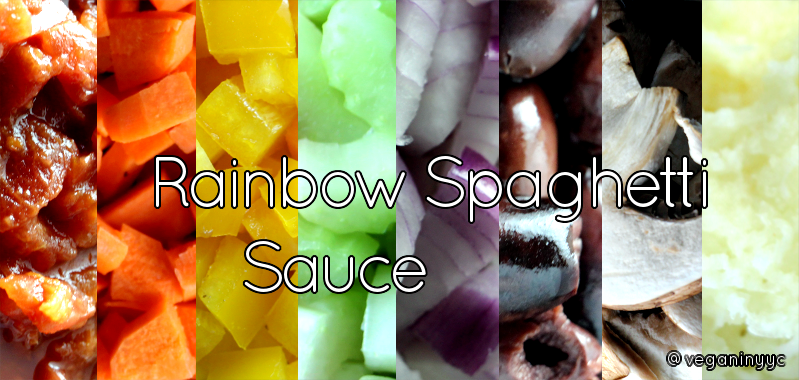 Rainbow Spaghetti Sauce is a recipe based on my mother's Top Secret spaghetti sauce. But lest I get lynched by family, I'll just make this clear: this is MY version of the top secret recipe. I've been making this sauce since I was old enough to chop vegetables, and when I moved out, I added a bit of this, and a little of that, and made it my own.
Rainbow Spaghetti Sauce gets its name from the ingredients; before now,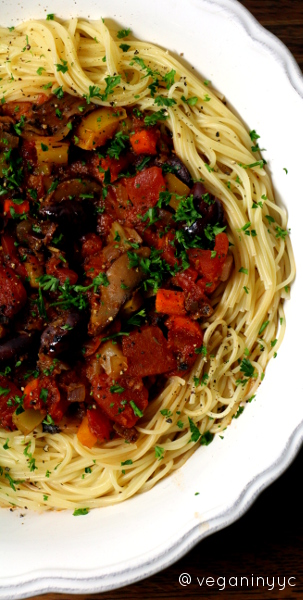 the recipe has never been written down, so I remember the ingredients by their colour. Red tomatoes, orange carrots, yellow pepper – you get the idea. Use whatever colour vegetables you like, or are available; no need to stick strictly to the colours called for in the recipe. You can also use water or vegetable broth in lieu of oil to make it oil-free! 🙂
I generally batch cook this; triple the recipe and store it in 1L jars in the freezer. There it waits until I need it, for lasagnes, casseroles, or on top of pasta. It's best used within 3 months of freezing, but I don't think it's ever lasted that long.
From my family to yours, I hope you enjoy this delicious Rainbow Spaghetti Sauce recipe; make sure to leave me a comment and share if you do! 
Rainbow Spaghetti Sauce
Total Time
1
hour
15
minutes
Servings
10
cups of sauce
Ingredients
1/4

cup

italian spice blend

3/4

tsp

salt

1

tsp

sugar

2

cups

red onions, diced

2

cups

cremini mushrooms, sliced

1

bulb

garlic, minced or grated

1

cup

carrots, diced

1

cup

celery, diced

1

cup

yellow pepper, diced

1

cup

kalamata olives, roughly chopped

2

796mL (large) cans

diced tomatoes (unsalted)

1/4

cup

vegetable oil

(use water or vegetable broth x3 to make it oil-free - see Notes for more info)
Instructions
Add vegetable oil to a stew/stock pot over medium heat.

Add the spices, salt, and sugar, sauteing for a minute or two to release the flavours.

Add onions and mushrooms; stir to coat well in spices. Cook until onions are translucent and mushrooms have released their liquid, about 10-15 minutes.

Add carrot, celery, and yellow pepper, continue to cook for another 10 minutes, or until carrots start to become tender.

Add tomatoes and olives; stir well to combine. Cover, and turn heat to low. Simmer, covered, for about 45 minutes, stirring occasionally to prevent any from sticking to the bottom. Sauce is finished cooking when all ingredients are soft and tender, and the flavours have all mixed together. Sauce will keep for about a week in the fridge. To store in the freezer, spoon into jars leaving an inch or two of room at the top, and allow 24 hours to cool before popping into the freezer.
Recipe Notes
If you are making this sauce oil-free, you will need about 3 times the amount of oil called for in broth/water, so between 3/4 and 1 CUP.  Add a few tablespoons at a time, as needed, to prevent ingredients from sticking to the bottom of the pot while you are sauteing them.