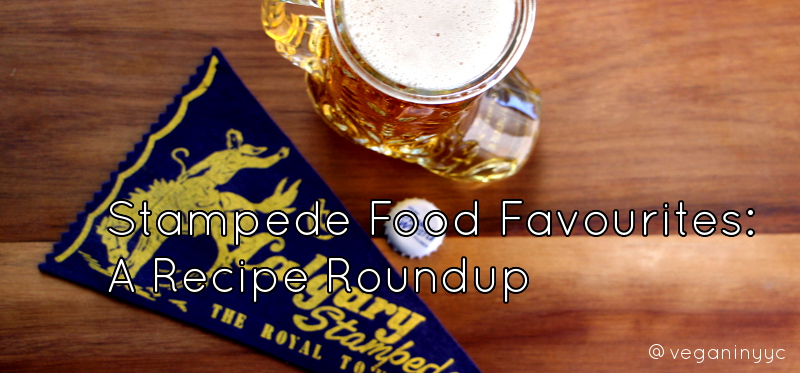 Down at the Midway, just about everything is deep fried, sugar coated, and/or hickory smoked. Oh, and made with animal products. As with most of the Stampede, the food situation can be a nightmare for anyone who adheres to a vegan lifestyle. But whether you grew up in Calgary or were just a Stampede regular, those carnival flavours can be nostalgic, and sometimes you just really want to treat yourself.
The good news is that you can use plant products to recreate all the tastes of Stampede that taste just as decadent as their conventional counterparts. No health foods here; I repeat, these vegan versions are not healthy. They are, however, proof that you don't have to sacrifice taste for compassion.
These Midway staples – BBQ, beer batter, mini donuts and lemonade – will definitely satisfy your cravings for all things carnival. Read on for the links to my favourites.
BBQ PULLED JACKFRUIT
This stuff is absolutely amazing. Who would have thought you could take a fruit and turn it into something that so closely resembles pulled pork? I was super skeptical at first, but this stuff is delicious. No, it doesn't taste like pork. But pulled pork doesn't really taste like pork either – it's all spices and BBQ sauce. And that's what you get here; the texture and mouth-feel of meat without the associated cruelty.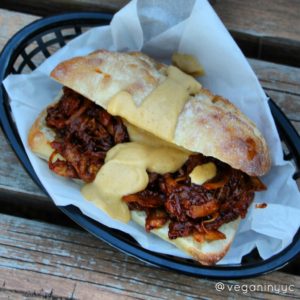 To make pulled jackfruit, you're going to need canned, young green jackfruit packed in water, not brine or syrup. It can be a bit of adventure to find this stuff in Calgary, but for sure it can be purchased from Hearts Choices, or any T&T Supermarket (check the South East Asian aisle). [Blissful Basil] has a great recipe, and [Minimalist Baker] builds on it by adding a delicious avocado slaw. Put your BBQ jackfruit in a sammich, make a vegan version of the Stampede's Cup O' Cue, or toss it in a taco.
MINI DONUTS
Did you know that the Stampede sells over 2 MILLION mini donuts every year? Yeah, I wasn't shocked either. I used to be a mini donut Fa-REAK; if I saw them, I needed them.
There are many vegan mini donut tutorials, but most of them are baked. What I really wanted was a fried vegan yeast donut. Luckily,  [Mary's Test Kitchen] posted a great [vegan yeast donut tutorial] that you could totally use to make mini donuts!  Just use a spice jar lid and a wide straw as donut cutters, and toss the little fellas in cinnamon and sugar to get that authentic mini donut flavour.
BASIC BEER BATTER

This is so basic you barely need a recipe. Place 1 and 1/2 cups of chickpea flour in a large bowl, and add 1 tsp. garlic powder, 1 tsp onion powder, 1/2 tsp salt and whisk together. Then, while still whisking, slowly add beer until there are no lumps and it has that viscous batter consistency. And voila – beer batter. Use it to coat whatever you like; I really like pickles, onion rings, or even slices of banana. You can use gluten-free beer to make it gluten-free.
THAT MIDWAY LEMONADE
The only thing better than beer for washing down all that tasty grub is that other worldly Midway lemonade. Thirst quenching, ice cold, and packed with citrus, there's actually a trick to creating this treat that differentiates it from standard lemonade. Grab the top secret recipe for That Midway Lemonade.
Save
Save
Save
Save
Save